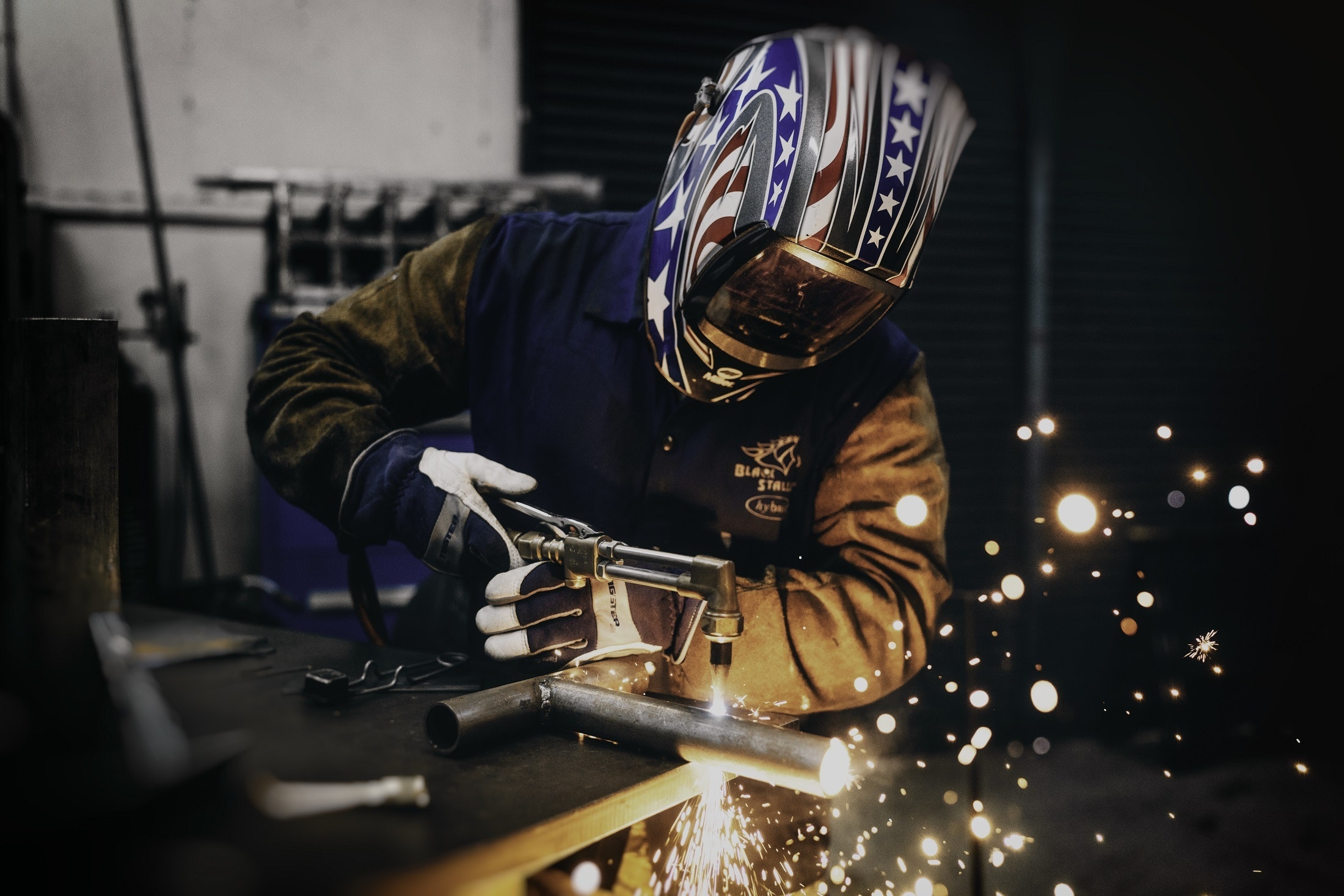 Cutting & Welding Essentials: Victor Torch Kits
Let's talk about torch kits. What are the trade-offs for buying tools individually or all at once? Which one best fits your needs? Some of the best selling welding/cutting kits are the Victor Torch Kits. With a multitude of torch sets and outfits, Victor has the right tools for all different sorts of welding and cutting.
What You Need To Know About Oxy-Fuel Cutting & Welding
Oxy-fuel technically speaking is a combination of oxygen and any fuel gas (typically propane, propylene, natural gas etc.), but the specific combo to focus on is arguably the most popular: Oxy-Acetylene welding and cutting. To talk about the chemical details of cutting and welding, I'll use the terms oxy-fuel and oxy-acetylene interchangeably.
The heat generated from the combustion of oxygen and the hydrocarbon compound acetylene is used to weld materials together, but can also be used as a jet stream to cut materials. The materials mainly used in oxy-fuel welding are steel, brass, and copper. For cutting, mild steel is the main material used. The most common uses for oxy-fuel welding are welding thin metals such as:
jewelry repair
electronic repair, and
crafts or hobbies out of a home-based shop.
Oxy-fuel welding and cutting proves to be extremely versatile, with cutting being the more common practice of the two. No matter the size of the project, Victor carries a large variety of torches for all kinds of uses!
Light-Duty Torch Kit
Our most popular light-duty torch is the Victor G150-J-P Portable Tote without tanks.
This kit includes:
Color coded gas hoses
Oxygen regulator
Acetylene regulator
Striker
Safety cutting glasses
Brazing nozzle
Heating nozzle
Torch handle with check valves
Carrying tote
Couplings
Tank wrench
A huge selling point for this particular torch kit is the portability. A lot of reviews will show the (separately purchased) gas tanks in the carrier and the hose wrapped around the tote, making the kit something you can take or store virtually anywhere. This set is capable of HVAC and plumbing brazing applications. This comes with a 7 Year Warranty on the Regulator and a 10 Year Warranty on the Torch Handle and Cutting Attachment.
Other Victor light-duty options:
Other kits may cut thicker plates but struggle to weld. This Victor kit can cut up to ½" plate and weld up to ¼". With all these features at a budget-conscious price, a light-duty kit makes simple jobs even simpler.
Medium-Duty Torch Kit
Our most popular medium-duty torch kit is the Victor Performer EDGE™ 2.0.
This kit includes:
Color coded gas hoses
Oxygen regulator
Acetylene regulator
Striker
Googles
Tip cleaner
Torch tip
Torch handle with check valves
Cutting attachment
Heating nozzle
Brazing nozzle
One benefit for purchasing the kit over all the individual pieces, is certainly the COST. This Victor torch kit total is $279.89+tax (free S&H over $100). When you add all these items together purchased piece by piece, at the lowest cost your total winds up being roughly $320 before shipping or tax. Someone could argue that you may not use all the pieces in this Victor torch set, however you have them available in case you need them, and at the kit's price they're practically free. This torch set can cut up to 6" and weld up to ¼" and comes equipped with everything you would need to get started, aside from a fuel source.
Other Victor medium-duty options:
Victor sets themselves apart from competitors with a focus on safety. The WH100FC torch handle in the medium duty set comes with built-in flashback arrestors, unlike other brands' kits which have their arrestors detached or even optional. Victor's torches offer the check valves and built-in flashback arrestors to give operators peace of mind during their work.
Heavy-Duty Torch Kit
Our most popular heavy-duty torch kit is the Victor Journeyman® EDGE™ Series 2.0. If you go into google and search for "Best Oxy Acetylene Torch Kits," this kit ranks #1.
This kit includes:
Color coded gas hoses
Oxygen regulator
Acetylene regulator
Striker
Googles
Tip cleaner
Torch tip
Torch handle with check valves
Cutting attachment
Heating nozzle
(3) Brazing nozzles
The heavy-duty torch is what is going to be typically used for large projects such as structural or industrial work, while also being able to tackle the light fabrication jobs. This specific torch outfit comes with multiple brazing nozzles for welding depending on the magnitude of the task. While still staying true to having all the other necessity pieces that have come in the light and medium-duty kits we've discussed.
Other Victor heavy duty options:
Like competing medium-duty kits, many brands sell heavy-duty kits for hundreds more than the Victor price, often without built-in flashback arrestors and fewer brazing nozzles. At an affordable price and with a variety of accessories, the power of this Victor Kit comes in its versatility and ease of use.
Which Kit Best Fits Your Project?
To answer the question, it depends on the job. If you are doing some light around-the-house handy work such as HVAC, plumbing or even simple electrical gigs, a Victor light-duty kit is going to be more than enough to complete the project. But, if the work calls for a little more grit such as machinery or light fabrication, then you'll want to stick with the medium-duty Victor Performer EDGE™ 2.0. Moving up to more intense work such as industrial and structural metalwork requires a heavy-duty kit like the Victor Journeyman. If these specific options don't suit your needs, each category has alternatives with adjustments to match unique applications.
Find The Perfect Torch Kit With Us!
Regardless of your project, you can find the right Victor Torch Kit for the job on our website! Browse our selection even further here.
---
Back to blog