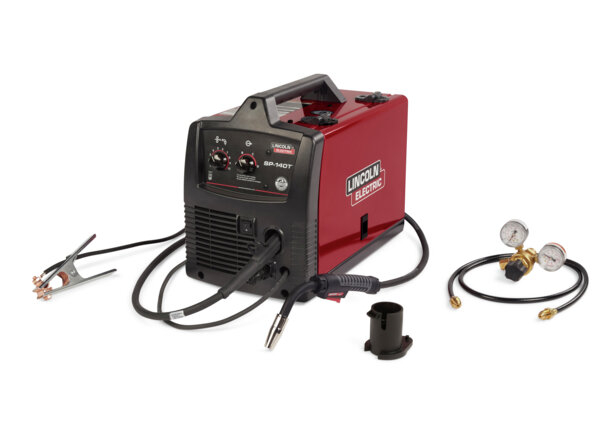 Get To Know The Lincoln Electric SP-140T® Wire Feeder Welder
A lot of welding equipment ends up being more complicated than they're worth, but the Lincoln Electric SP-140T® Wire Feeder Welder packs power and reliability into one simple welding machine. With its forgiving arc and simple tapped voltage control, welding is easier and say goodbye to messy and erratic arc starts, because this powerhouse ensures smooth starts with minimal spatter. Plus, with a wide 30-140 amp welding output range, you have the flexibility to tackle a variety of welding projects with ease.
A Feeder Welder With The Best Arc Performance
Precise Wire Drive
The precision full adjustment drive system reduces the chances of wire tangling and crushing, as well as Brass-to-Brass gun connections for enhanced conductivity.
No Hassle Tool-Less Design
The SP-140T features stress-free wire spool mounting, wire drive service and polarity changes for a seamless experience.
Easy-To-Add Spool Gun
For a smoother aluminum wire feeding process, add the economical Magnum® PRO 100SG spool gun for an efficiency boost.
SP-140T Welding Capabilities

Includes:
Magnum® PRO 100L gun
10 ft. (3.0 m)
Gas Nozzle
Gas Diffuser
Cable Liner
035 in. (0.9 mm) Contact Tip
Work Cable and Clamp
Adjustable Gas Regulator and Hose
Spindle Adapter
0.025 - 0.030 in. (0.6 - 0.7 mm) and 0.035 in.
(0.9 mm) Smooth Drive Roll for MIG & FCAW
Get A Welding Upgrade!
Ready to elevate your welding game? Don't miss out on this exceptional welding companion that delivers superior arc performance, precise wire drive, and hassle-free operation. Click here to visit our website and secure your own SP-140T®!
---
Back to blog