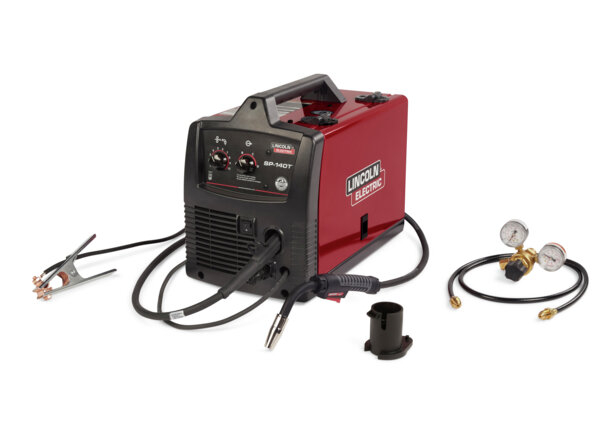 GET TO KNOW THE LINCOLN ELECTRIC SP-140T® WIRE FEEDER WELDER
SUPERIOR ARC PERFORMANCE
Forgiving arc and simple tapped voltage control make dialing in your application easy. Smooth arc starts with minimal spatter. Wide 30-140 amp welding output range.
PRECISE WIRE DRIVE
Precision full adjustment drive system reduces chance of wire tangling and crushing. Brass-to-Brass gun connections for enhanced conductivity.
NO HASSLE TOOL-LESS DESIGN
Hassle-free wire spool mounting, wire drive service and polarity changes.
SPOOL GUN CAPABLE
Add the economical Magnum® PRO 100SG spool gun for enhanced aluminum wire feeding performance.
SP-140T WELDING CAPABILITIES

Here's What You Get!
Magnum® PRO 100L gun
10 ft. (3.0 m)
Gas Nozzle
Gas Diffuser
Cable Liner
035 in. (0.9 mm) Contact Tip
Work Cable and Clamp
Adjustable Gas Regulator and Hose
Spindle Adapter
0.025 - 0.030 in. (0.6 - 0.7 mm) and 0.035 in.
(0.9 mm) Smooth Drive Roll for MIG & FCAW
Ready to Buy?
Arc Solutions, Inc. is your go-to expert for welding products. Shop Now for your LINCOLN ELECTRIC SP-140T® WIRE FEEDER WELDER
---
Back to blog