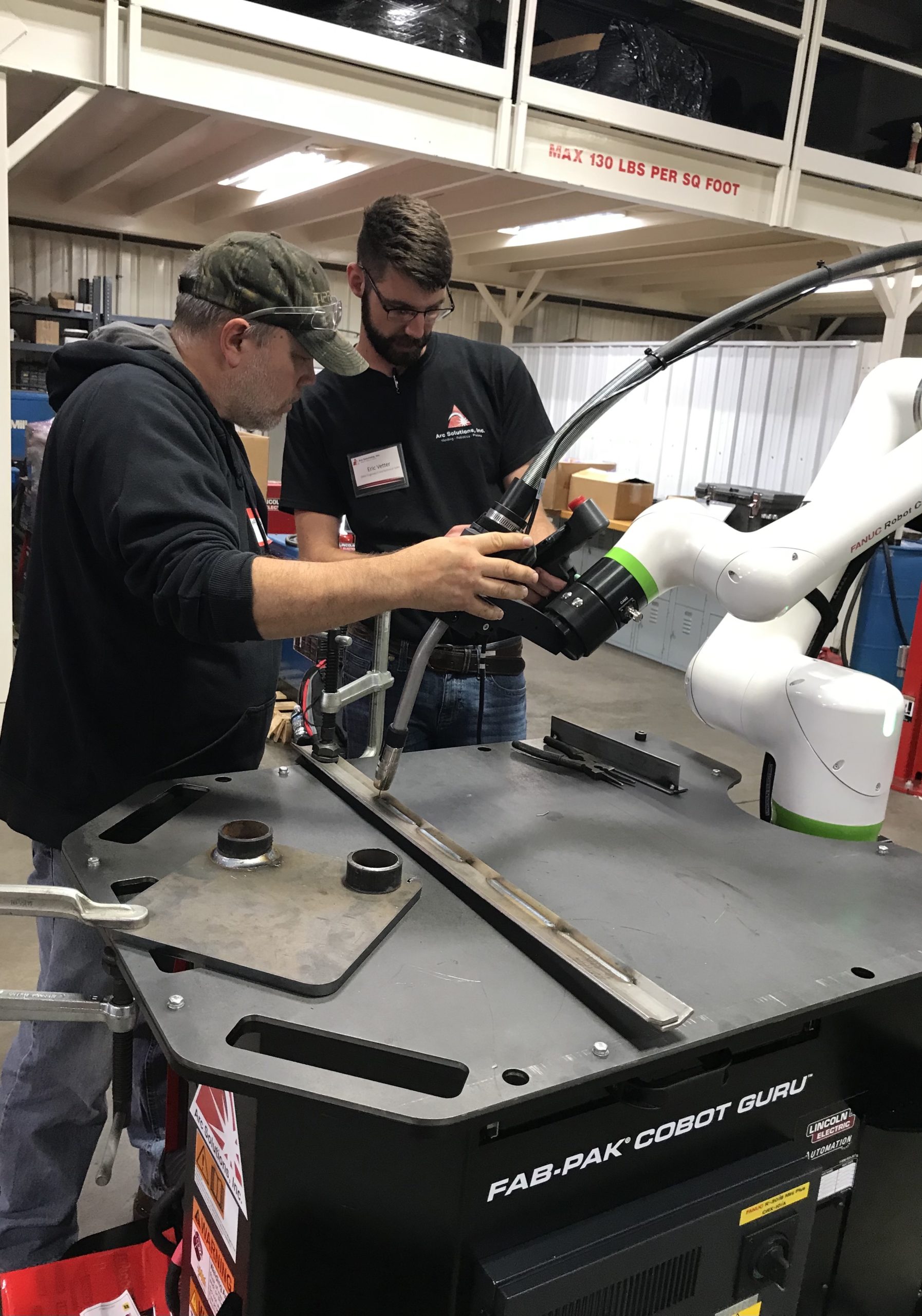 Welding Cobots – Are they worth the investment?
Traditional Robots Vs. Up and Coming Cobots
Automated welding in the manufacturing industry has always been most sought after for high volume, low mix weldments. Automation began as "hard automation" where a machine was built to do only 1 specific job and then evolved into "flexible automation". Flexible automation as we know it today consist of multi-axis weld robots (typically 6 axis) that can be programmed through a teach pendant for hundreds of different jobs. The first of these programmable robots were developed in the 1960s and have advanced with technology ever since. Fully automated robots today move at lightning speeds to cut down on air move time, but require multilevel safety features including a full fence to keep humans protected. Cobots (collaborative robots) are now making their way into this automation scene because they are designed to collaborate (work alongside of) a human operator. Since the fencing has been eliminated, cobots take up a much smaller footprint. In fact, the Cooper™ Cobot option from Lincoln is on a wheeled cart so that it can be pushed anywhere its needed in the shop.
Why invest in a Cobot?
Cobots have brought an exciting new face to the world of robotic welding. The technology helps in many facets. Programming is now completed with a tablet instead of a traditional robotic teach pendant. This makes the device extremely user friendly and even more inviting for the younger generation. The programming side is icon driven and built around drag and drop techniques so it is very quick to learn. Even beyond that, the cobot can be programmed by physically moving it with your own hands to the desired location. Then you can hit one button to save the point, drag it to the next location, save the new point and so on. These features allow welders off the production floor to be taught to program in hours. With traditional robots, companies had to hire programmers who knew how to program a robot and how to weld. As those in the manufacturing business know, that is a difficult combination to find. With the ease of programming cobots, everyday welders can now teach cobots.
What companies offer cobots?
There are a handful of companies that currently offer welding cobots. The professionals at Arc Solutions, Inc. have chosen to team up with Lincoln Electric for collaborative robots. Lincoln Electric and Fanuc have a long standing history of working together for arc welding automation. Through decades of knowledge and know-how, the two companies have launched the Lincoln Cooper™ Cobot. This system is an off the shelf part number that utilizes Fanuc's R30iB mini controller. Those with a background in automation know the R30iB controller and its power in the automation world. The controller chosen for the Guru package still contains the programming features that automation programmers have come to depend on. The companies believe so wholeheartedly in their own equipment that Fanuc is promoting 8 years zero maintenance on the arm and Lincoln offers a 3-year warranty on the welding power source.
Is a cobot right for everyone?
No, we don't believe they are. Like everything else in life there are tradeoffs. To account for human safety, cobots move slower than traditional robots. This increases the air move time thus increasing cycle time when compared to a traditional robot. If you are looking to weld 100,000 of the same part every year for 5 years, then a traditional robot is still your ticket. However, if you are more job shop oriented and build 50 parts of multiple different items you should look into cobots. The amount of time you lose with slower air moves would easily be justified by the time savings of programming. A current downfall of cobots are lack of weld positioners. With traditional robotic weld cells part positioners are used to rotate the welds in the optimal orientation. Cobots cannot do that yet. Collaborative positioners have not been tied to collaborative robots yet, BUT the clock is ticking and the technology will soon follow to allow cobots and positioners to work in conjunction.
What kind of weld quality can I expect from a cobot?
Weld quality from robots and cobots is nearly impossible to beat. Once the weld parameters have been dialed in (which manual welders are typically skilled at doing), the welds are extremely consistent. Robots and cobots both go to the exact same location and travel the same speed every time. This eliminates weld quality issues due to operator fatigue or trying to rush a job. It also helps to eliminate spatter since all the variables remain constant. The Guru package has a built in software package that locks in the torch angle as well. This allows for the first weld point to be taught and the torch angle to remain consistent for the entire length of the weld. Software packages like Touch Sense can be purchased in addition. Touch sense uses the wire to go around and locate the orientation of the part if there are consistency issues. On thick plate there is a software called Through the Arc Seam Tracking (TAST) that uses voltage measurements to maintain the programmed path on joints such as T joints.
How does cobot pricing relate to traditional robotic cells?
Cobots and simple one or two station traditional robotic cells are priced very similar to one another. The dollars saved on safety gear like fencing and light curtains are now used in the technology to make the arm collaborative. The Fanuc CRX arm that the Lincoln cobot package offers has sensors in each of its 6 axes. These sensors are what stop the cobot arm immediately when it hits something in its path. If the cost of buying a cobot seems daunting, Arc Solutions offers a leasing/rental program. In fact, both cobots and traditional robots can be used on a rental or a lease-to-own program that helps take risk away from the purchaser.
Are there options to customize a cobot?
With the Guru cobot package there are all kinds of options. The system comes standard with a Powerwave R450 powersource and a Lincoln Magnum 550 amp gun. The gun can be upgraded to a 650 amp water cooled option. Additional options like fume extraction, fabrication tables, thick plate software which includes multipass software, touch sense software, and different length arms are available. The standard reach arm is 49 inches and the long reach arm goes out to 55 inches. This is measured from the center point of the robot. This means the reach is actually 49/55 inches in each direction from the center. Reach out to Arc Solutions Inc. for a full list of cobot options and arm lengths!Arc Solutions has a full technical staff well versed in the welding and cutting industry. Please feel free to call us at 419-542-9272 or email office@arcsolinc.com for sales and technical assistance.
---
Back to blog